Heaven Official's Blessing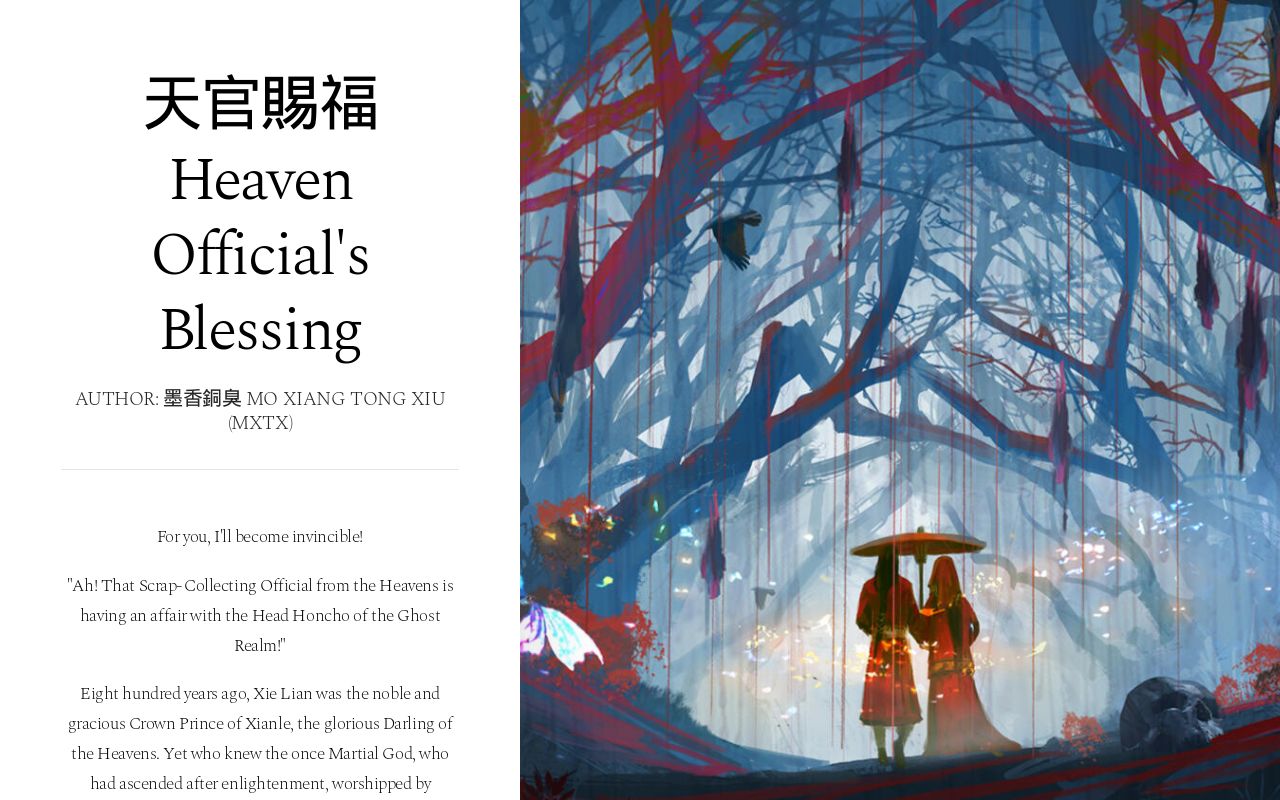 For you, I'll become invincible!
"Ah! That Scrap-Collecting Official from the Heavens is having an affair with the Head Honcho of the Ghost Realm!"
Eight hundred years ago, Xie Lian was the noble and gracious Crown Prince of Xianle, the glorious Darling of the Heavens. Yet who knew the once Martial God, who had ascended after enlightenment, worshipped by millions, had fallen so abruptly, disgraced and dishonored, hitting as rock bottom as it got.
Eight hundred years after that, Xie Lian ascended again with an uproar. This time, he had neither devotees nor merits. One day, on the way home from collecting scraps he picked up a young man. This young man was actually that Ghost King of countless faces much talked of in the three realms—Hua Cheng.
—
TAGS: loosely xianxia, adventure, action, romcom, angst, 1v1 HE, SFW
WARNINGS: may contain some violence, uncomfortable body horror
244 Chapters + 8 Extras
Hua Cheng x Xie Lian
—
Status: LICENSED
TGCF has been licensed by Seven Seas
This translation has been removed.
Any reposts of my TGCF translation is now ILLEGAL
People who printed the translation are advised NOT to flaunt it online
PREORDER THE OFFICIAL MXTX NOVELS
Many online retailers offer international shipping, and many international/local bookstores are also joining the POs.
Afterword || Thai Vol1 Preface
Purchase TGCF (Traditional Chinese) Vol 1-4 HERE
International Shipping available
TGCF Traditional Chinese Publisher for future POs HERE
Info on other TGCF adaptations can be found HERE