Christ Episcopal Church, Valdosta GA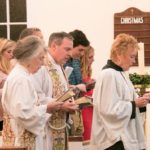 News this Week
Worship Services
January 23:
10:00 a.m., Holy Eucharist, Rite II
Due to the Annual Meeting and Vestry Elections we will only have the 10:00 service on Sunday, January 23rd. 
We will return to normal schedule on January 30th. 
Father Perkins writes a "Looking Out My Window". This can be found here. Father Perkins audio of sermon from January 16, 2022 is available here. 
We are pleased to announce that we have added a Folk Mass to our Sunday in-person worship schedule.  The Folk Mass will be held every Sunday at 12:00 p.m. (Noon) and use the music from the Caritas. All are welcome to attend this service. (We will not have a noon service on January 23, 2022 due to the Annual Parish Meeting held after the 10:00 service.)
Please continue to pray for Father Perkins and the Vestry during this transition period.
Please join us for in-person worship.
__________________________________________________________________________________________
150 Year Celebration Proclamation from Valdosta City Mayor – Scott James Matheson
Bishop Logue's manuscript from the 150 Celebration service held on November 13, 2021 available here.
January 20, 2022