The Christian Science Monitor Daily for October 28, 2021
Jane Austen's unfinished novel "Sanditon" recently gained a fan following after PBS broadcast a series based on it. (The second season premieres March 20, 2022.) But when author Vanessa Riley encountered the novel, she became more than a fan. One of its minor characters not only stood out to her, but changed the direction of her career. 
Austen's Georgiana Lambe is an elegant, wealthy, biracial heiress who travels from the West Indies to the fictional seaside resort of Sanditon. Miss Lambe is enigmatic, and Austen's narrator describes her as precious, "always of the first consequence," and "chilly and tender." 
Dr. Riley immediately took notice. Her own heritage is of the West Indies – Trinidad and Tobago – and South Carolina. And along with a Ph.D. in mechanical engineering from Stanford University, she has a repertoire of novels in the romance and historical fiction genres that elucidate the stories and histories of women of color. 
"Where are my people? And where's the representation?" Dr. Riley says she's often asked herself those questions when reading Regency and historical fiction, especially considering the enormous financial underpinnings of commodities like sugar and cotton, and the labor of enslaved people, that fueled 18th- and 19th-century colonialism. 
"And yet you read romance, you read a lot of historical fiction, and this is not mentioned," she says during a recent Zoom interview.
As historians unearth stories of Black lives of the Regency and 18th and 19th centuries, novelists like Dr. Riley are adding works of imagination, with stories featuring adventure and love. The combination offers not only a more accurate understanding of the past but a more three-dimensional view of human experience, both factual and fictional. 
When she encountered Miss Lambe, Dr. Riley says she felt driven by a pressing question: Was Austen being consciously progressive? Or was she simply describing the world she saw? 
While the answer contains a little of both, for Dr. Riley it was the search that mattered, leading to a discovery of real Black women's lives from British colonial and Regency eras.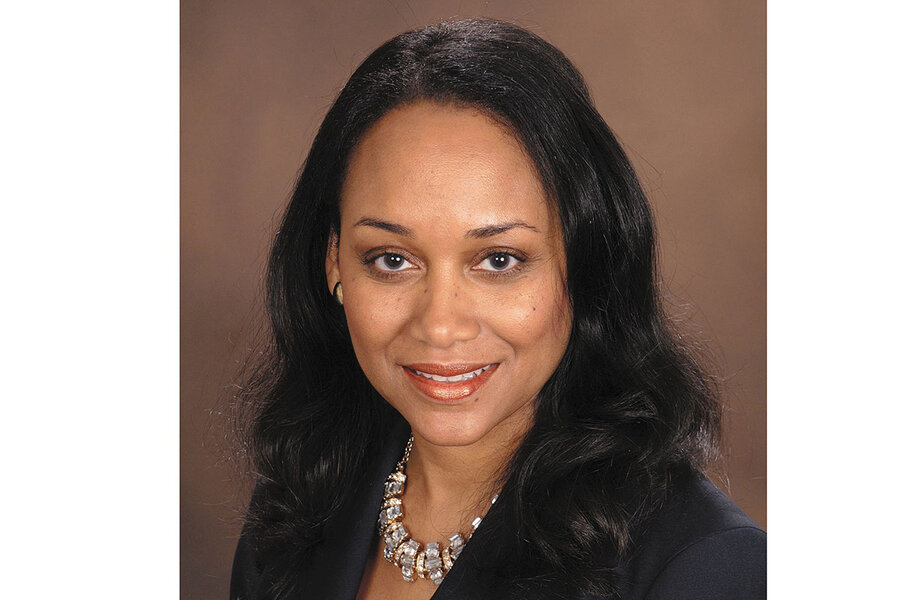 Courtesy of Vanessa Riley
After researching Dorothy Kirwan Thomas' life, author Vanessa Riley wrote the novel "Island Queen," which chronicles Thomas' struggles and triumphs. "Dorothy was very human," says Dr. Riley. "She went through a lot of suffering, but she had a will to survive that I haven't read about for a long, long time."
Getting to know Dorothy Thomas
For Dr. Riley, one life in particular – that of Dorothy Kirwan Thomas – stoked her imagination. She found that Thomas was born to an Irish plantation owner and an enslaved woman in Montserrat but had become a wealthy, influential person by the time she died in 1846, having lived at least into her 80s. Known as "the Queen of Demerara" (part of present-day Guyana), she's thought to have had 10 children and multiple grandchildren, some of whom were privately educated in the United Kingdom.
The more she learned, the more Dr. Riley was hooked. In fact, Thomas is the basis for her latest novel, "Island Queen," published in July, which spans Thomas' life, encompassing her beginnings in slavery and chronicling her journey to achieve freedom and a business empire, all while shepherding a huge family across countries, islands, and continents.
"This woman is phenomenal," Dr. Riley says, "that she's able to just restart her life in these various colonies. She does it with children!"
"Some of us have struggles taking our kids to Walmart in the backseat of a minivan," laughs Dr. Riley, "and she's taking 17 [children and grandchildren] from Demerara … all the way up to Glasgow, Scotland. Because of this world of money that has opened up the world to her, she wants her grandkids to see this. And to feel this. And she's paying for the education of these children. And she's funding schools for the education of colored girls in London."
An avid reader of Regency romance, Dr. Riley wondered why she hadn't encountered entrepreneurial women of color beating the odds in colonial islands before.
"I mean, this is an enormously fabulous woman who rose against all kinds of odds," says Dr. Riley. "For her to be completely wiped off the books just blows my mind."
That same bafflement drove Gretchen Gerzina's research. The real-life stories of women of color in the Regency era are not always easy to find, even for trained historians like Dr. Gerzina, who has teased out histories from fragments and written books and BBC radio programs documenting Black lives in historic Britain. 
"I wanted to make people see … that these people are walking the same streets, we're living in the same neighborhoods, and I wanted to make it a living, breathing history," Dr. Gerzina said on "The Austen Connection" podcast in July. "People didn't quite realize that there had been a Black British history that goes back as far as the Romans. … So it's become quite a well-known issue now. Although there's still a great sense of many British people wanting not to understand or believe that past." 
Dr. Riley says Dr. Gerzina's work inspired her as she dug for Thomas' history, drawing on scraps – wills, historic newspaper reports, and legal records – to reconstruct her life. But there is much more work to be done in documenting the real lives of women of color, specifically in the West Indian colonies, she says.
Staking a claim to "happy every after"
Writing Thomas' reconstructed life involves a lot of active words not usually associated with women of color under 18th-century colonial oppressions: words like entrepreneurship, manumission, agency, and status. 
Also present – importantly for Dr. Riley – are love, romance, and "happy ever after."
Thomas' life is adventurous, including her fascinating relationships with men – possibly even one with a sea captain prince who would later become England's King William IV. Such experiences, woven into Dr. Riley's book, make it highly romantic reading, and an awful lot of fun. 
But Dr. Riley says despite the adventure, she resists the urge to make Thomas superhuman. She wants readers to see a real person in all her complexity, including the pain Thomas endured and the compromises she made, like owning and profiting from enslaved people as her businesses and influence expanded. 
"Dorothy was very human," says Dr. Riley. "She felt a lot of pain. She went through a lot of suffering, but she had a will to survive that I haven't read about for a long, long time."  
Readers looking for Regency adventures on the screen might not be surprised, especially after the record-breaking success of the Netflix/Shondaland series "Bridgerton," that "Island Queen" has been optioned for the screen. Dr. Riley confirmed reports that "Bridgerton" director Julie Anne Robinson and star Adjoa Andoh have optioned the movie rights to the novel. 
A "Bridgerton" fan, Dr. Riley says flipping the script of the usual narrative of pain, putting a free woman of color at the center of the narrative, and making that narrative romantic and joyful give the story its power.
She says she never thought she'd get a chance to tell this story, precisely because it's a historic tale where pleasure overwhelms the pain. For a long time, she adds, publishers expected and seemed to commission stories featuring Black pain. But she feels a turning point occurred in May 2020.
"Something happened, something changed, and unfortunately we can trace it to George Floyd," she says.
Dr. Riley finds the publishing business more open to complex and true narratives now, so she is channeling her passion for Regency era stories into illuminating, through historical fiction, the real lives of historic women of color, even when those histories are hard.
"That's why I'm a big advocate of Black romance," she says. "Because you just need to be safe, and have a 'happy ever after.' And I'm just so thankful that now 'happy ever after' includes everyone." 
Janet Saidi is a journalist who's assigned herself the Jane Austen beat. When not working on her podcast and newsletter, "The Austen Connection," she is producing at NPR-affiliate KBIA radio and lecturing at the Missouri School of Journalism.